Why the NCIS: Los Angeles finale just became even more emotional after 'extremely challenging' conclusion
NCIS: Los Angeles is getting a proper send off for its upcoming finale, and it is about to get very emotional.
The hit CBS show – which has been on the air for fourteen years and is both the first and the longest running spin-off from the popular franchise – is coming to an end in May.
The finale will be split up into two parts, which will air on its usual Sunday slots on May 14 and May 21, and the latter will also feature a finale send-off to air right after the very last episode, which will reflect on its run and bittersweet ending. Its star Daniela Ruah recently looked back on her time on the show, which you can see in the video below.
Titled A Salute to NCIS: Los Angeles, the one-hour farewell special will air at 10pm EST on May 21st and is set to be hosted by Kevin Frazier, who is known for co-hosting Entertainment Tonight. It will feature old and new interviews with the cast members, and plenty of behind-the-scenes footage from the last 14 years.
Showrunner and executive producer R. Scott Gemmill reflected on the incoming conclusion to the show, and per Variety, he said: "Wrapping up a series is always bittersweet. We were blessed to have 14 seasons together, so bringing it to a satisfying end was extremely challenging after so many years."
He added: "Fortunately, CBS was gracious enough to give us an extra episode in order to send off our characters in a way befitting their stories that hopefully the fans find both satisfying and hopeful."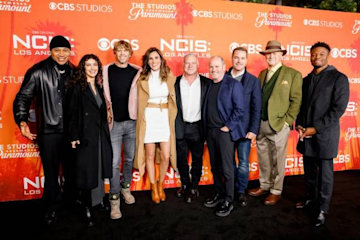 The cast and crew celebrated the show's run with a wrap party in LA
The last episodes will see the NCIS team investigate their last case, all the while on-screen couple Callen and Anna, played by Chris O'Donnell and Bar Paly, try to plan their wedding.
Ahead of the finale, the cast members celebrated with a wrap party in Los Angeles, during which LL Cool J, who has played Senior Special Agent Sam Hanna since the beginning of the show in 2009, spoke to People about the show's ending.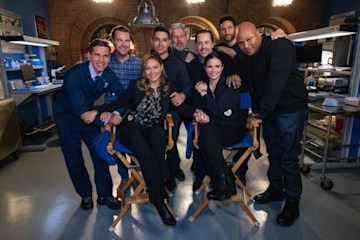 Part of the show's last season included a first-ever cross over with NCIS: Hawai'i
He said: "You know, I mean, this is 14 years later," adding: "Normally they'll be like, 'All right, that's an episode wrap,' but this was an episode wrap, a show wrap and a series wrap. It was big and felt big, but it felt like we accomplished something."
However overwhelming an ending as big as this one, and there's definitely "melancholiness on some levels," he still feels pride in the show's fourteen-year run, and told the outlet, it's a "huge accomplishment," and that: "It's like winning crazy Super Bowls or something."