NCIS' Sean Murray Says A Positive On-Set Environment Results In Stellar Cast Chemistry
"NCIS" was renewed in February for an impressive 21st season, making it the longest-running primetime drama series behind "Law and Order" and "Law and Order: Special Victims Unit." Having been on the air since 2003, "NCIS" has naturally undergone its fair share of changes, the most drastic and recent of which was Mark Harmon's departure from the series in 2021. Still, cast shake-ups are a regular occurrence on "NCIS," and the series owes its longevity in part to its friendly on-set environment that welcomes new cast members.
As the longest-tenured cast member on "NCIS," Sean Murray — who has been playing Timothy McGee since Season 1 — is especially well-acquainted with the ebb and flow of talent. "Any time we've introduced a character, we've had the actor there well beforehand on set with us getting to know us," Murray said in an interview with Entertainment Weekly. "We try to be friendly with everything we do, and that goes with welcoming new cast." For Murray, the result is unparalleled chemistry.
The NCIS set is especially welcoming to new cast members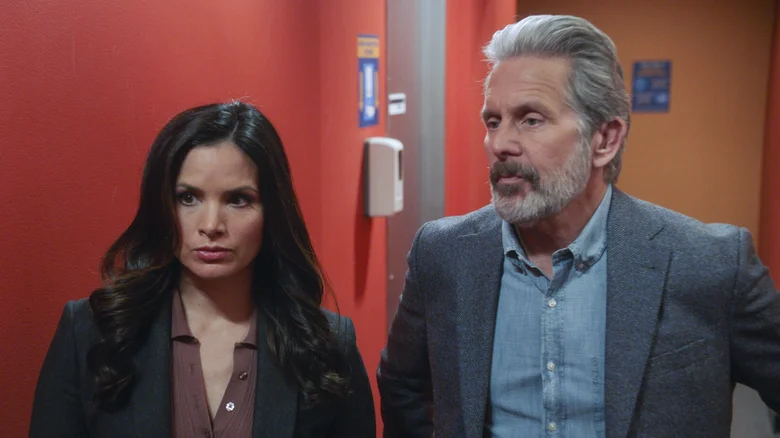 CBS
The friendly, easygoing environment of the "NCIS" set stands in direct opposition to the tense, heinous acts that the show's characters must investigate. According to Sean Murray, "NCIS" is a more positive place than even the sets of other shows. "Some people have their guard up because they've come from other sets where it's like, 'hit your mark and bark,' and it's very hardcore," Murray told Entertainment Weekly. "And they come to us and they see that it's friendly and that we encourage the positive dynamics."
Newer cast members have taken to the on-set dynamics like a fish to water. "Everyone seems to just kind of fall in," Murray continued. "I've seen everyone kind of just come in and feel that vibe and pick up on it and go with it." The "NCIS" veteran noted in particular how much he enjoys working with Gary Cole, who joined the series in Season 19. "I love Gary to d***h," he said. "Gary is fantastic, and I'm having so much fun with him." He also had favorable things to say about Katrina Law, who made her first appearance in Season 18: "Katrina is a blast. I mean, Katrina is so cool."
For Murray, that camaraderie comes through in the episodes. "I do think that shows through in the performances," he reiterated. "Especially this current ensemble seems to have such great chemistry."