NCIS star Mark Harmon's famous father revealed
NCIS star Mark Harmon shot to fame after landing the role of Leroy Jethro Gibbs in the popular police drama – but he's not the only celebrity in his family. As it turns out, the TV star's father, the late Tom Harmon, is also a household name thanks to his incredible career as an American football player and sports broadcaster. Keep reading to find out more about Mark's famous father and the extremely close bond that he shared with him.
Plus, click the video below for all the details on another important person in Mark's life – his wife of almost 36 years, Pam Dawber.
Who is Tom Harmon?
Nicknamed 'Old 98,' Tom Harmon is best known for playing two seasons of professional football for the Los Angeles Rams. He also had the longest run from scrimmage during the 1946 NFL season, before turning his attention to sports broadcasting.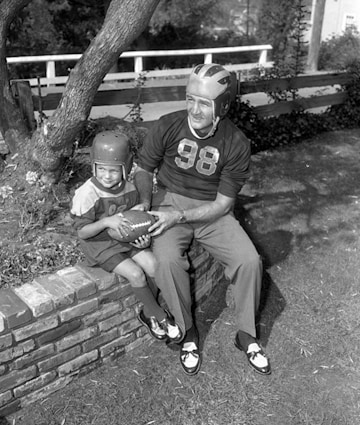 Tom Harmon was an American football player and sports broadcaster
Making history as the play-by-play announcer for the first televised Rose Bowl in the late 1940s, Tom later worked for CBS from 1950 to 1962, before landing his own 10-minute daily sports show on the ABC Radio Network. In the 1960s and 1970s, the sports star was tasked with handling the play-by-play responsibility on broadcasts of UCLA football games.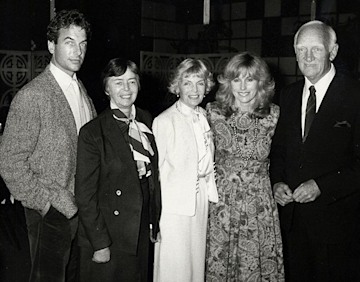 Mark Harmon pictured in 1986 with his parents Elyse and Tom and sisters Kelly and Kristin
In a sweet twist, it looks like acting also runs in the Harmon family! Aside from his prestigious sports career, Tom has appeared in major Hollywood movies. Back in 1941, he signed a contract with Columbia Pictures to star in Harmon of Michigan and he also had minor roles in That's My Boy (1951) and The Caddy (1953).
What has Mark Harmon said about his father Tom Harmon?
Tom Harmon sadly passed away at the age of 70 in 1990. While the loss was difficult for Mark, he often reflects on the invaluable advice given to him by his father. During an interview with People, the NCIS star said: "My dad taught me, if it's not true, don't worry about it."
He continued, "I come from working stock, and I'm proud of that. You have to get up every day and just try hard. That's what I still wake up willing to do: try my hardest."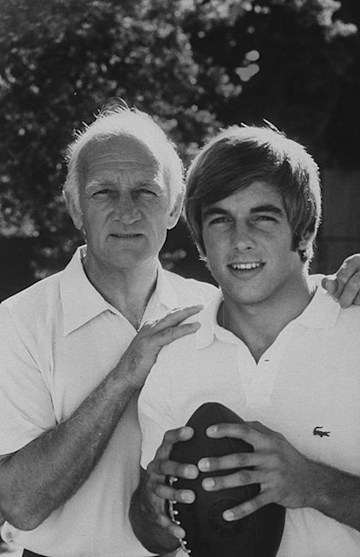 When in doubt Mark always remembers his father's advice to him 
Another piece of advice that Mark remembers fondly is to ​​"Work your a** off, and don't let the effort show." He added "Also: Treat people the same, not based on who they are or what they are. Show them common kindness. Don't be colored by their fame or profession. I don't get all excited by people blowing smoke up my a**. You have to stay honest."