Sean Murray's Favorite Day On NCIS Is An Unexpected One
Though he's been a working actor since the early 1990s, it's safe to say most of the television-watching world knows Sean Murray for his role on the long-running CBS drama "NCIS." The actor has, after all, been playing NCIS Special Agent Timothy McGee for the better part of the past two decades.

And with "NCIS" still delivering on the ratings front, it's possible he'll be playing the part for seasons to come.
To date, Murray has logged a staggering 437 episodes of Naval-centric procedural action on "NCIS." During his tenure alongside the series' crack team of Naval investigators, Murray's even-keeled McGee has seen and done a little bit of everything. So much so it's hard to imagine Murray could harken back to one single moment as his most memorable from the set of "NCIS." But during a recent interview with TV Insider celebrating the series' 450th episode, Murray and his fellow cast mates were asked to do just that. When it came time for Murray to dish, he admitted his last day of shooting with Mark Harmon was actually his favorite, telling the outlet, "Saying goodbye to [Harmon's character] Gibbs was magical."
Murray will always remember his last scene with longtime co-star Mark Harmon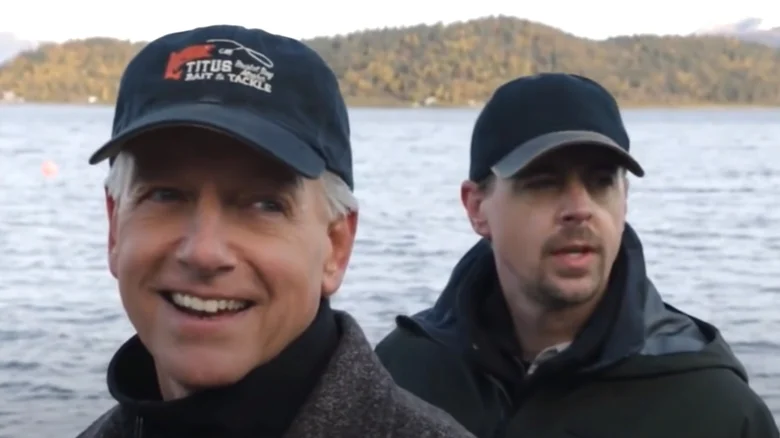 Mark Harmon was, of course, the star of "NCIS" from its pilot episode all the way through the early episodes of the show's 19th season, portraying the titular team's fearless leader, Leroy Jethro Gibbs. So beloved was the character, some wondered whether "NCIS" should, or even could continue without him. Even as the series soldiers on without him, Sean Murray's glowing commentary about shooting his final scene with Harmon is proof the actor's impact on the show will not soon fade.
As for that final scene, it came in the wilds of Alaska, with Gibbs bidding his protégé Timothy McGee an unexpected farewell, choosing to leave his high-octane NCIS life behind in favor of a little low-key fly fishing after narrowly escaping incarceration himself. As Murray told TV Insider, it's a scene he'll never forget because he relished the chance to share that moment with his longtime scene partner. "Being in Alaska with Mark, it was real in that I have had this incredible personal relationship with him for so many years," the actor said, continuing, "and then for me as McGee to be having to feel this goodbye and loss — and leave him in Alaska knowing he isn't coming back — it was heavy and beautiful."
Heaviness aside, Murray and Harmon milked their long goodbye for every ounce of drama they could. In doing so, they delivered an emotional wallop that even "NCIS" fans likely couldn't have anticipated. And frankly, the series may never top it.