NCIS: Brian Dietzen Opens Up About Acting And Writing For The Show
Actor Brian Dietzen has been playing Dr. Jimmy Palmer on "NCIS" since 2004, playing a recurring character going back to the very first season. His role got moved up to the main cast by Season 10, and now he has another title he can add to his resume thanks to the long-running CBS procedural: Dietzen actually wrote two episodes of the show in 2022 and 2023.
This isn't Dietzen's first writing credit, as he was a co-writer for the independent film in which he also starred called "Congratulations." So, writing and acting should come easy for the performer. Dietzen wrote the Season 19 episode entitled "The Helpers" and the Season 20 episode called "Old Wounds." Around the time the second of his episodes aired, Dietzen talked to Parade about what it was like to act with words he had written for the screen.
Dietzen said of getting the opportunity to write for "NCIS" on two different occasions, "That was a trip to have that happen last year for the first time on our show. I've written film stuff before and that sort of thing, but I'd never had television scripts of mine produced until last year. And now this year. It's wonderful." The actor mentioned that the thing he found most rewarding about having his episode scripts produced was how everyone from the actors to the producers steps up to create the best possible version of every script they get for every episode.
Dietzen got to bring out some of Parker's dark side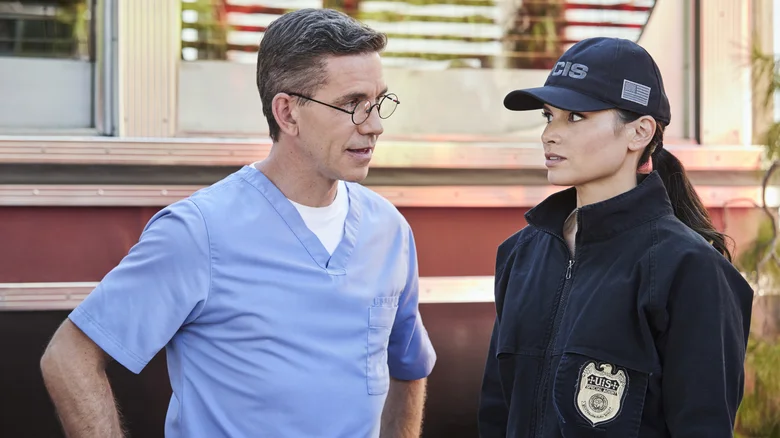 Sara Mally/CBS
"NCIS" actor Brian Dietzen said, "What's on the page, okay, I may be happy with it, but it's what the whole team does together through performances, through the cinematography, through the sound editing that really lifts the script up and elevates it into something that it could never be if it was just 58 pages sitting there on the counter." He continued, saying of the entire "NCIS" team, "We're pretty blessed to have those people."
Dietzen also mentioned how much he loved writing for his castmates in general just because of the level of talent that "NCIS" has on hand in terms of actors. One actor that Dietzen couldn't wait to write for was Gary Cole. He said he was such a fan of the legendary character actor. He wanted to write something new and outside of Cole's comfort zone to challenge the "cool" character of Agent Parker, giving fans a glimpse of his dark side. Dietzen said he loved what Cole did with his material and only had praise for the actor.
In the "Old Wounds" episode, Agent Parker saw a symbol that he recognized from his past carved into a drug found along with a victim's body. It is revealed that while taking a criminal down during a case for the FBI Parker accidentally shot his former partner in the back, leaving him wheelchair-bound. The same criminal is the prime suspect in this new case and it sends Parker spiraling in anger having to face him again. This serves as a bit of an origin story for why Parker left the FBI to become team leader for the NCIS. Fans overall praised the episode.
Read More: https://www.looper.com/1245706/ncis-brian-dietzen-acting-writing-for-show/